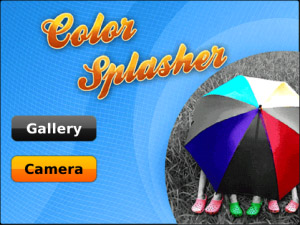 Tag:
Color Splash
Overview :
Color Splasher v1.0.1 for bb os5.0,6.0,7.0 apps - A Fancy Photo Editor for BlackBerry® to Recolor images
size: 707 KB
model: Pearl 9100 3G, Pearl 9105 3G, Curve 8520, Curve 8530, Curve 8900, Curve 8910, Curve 8980, Bold 9000, Curve 9300 3G, Curve 9330 3G, Tour 9630, Bold 9650, Style 9670, Bold 9700, Bold 9780, Bold 9788, Curve 9220, Curve 9350, Curve 9360, Curve 9370, Storm 9500/9530, Storm2 9550/9520, Torch 9850/9860, Torch 9800, Curve 9380, Bold 9790, Torch 2 9810, Bold 9900/9930, 9981

Description:
Color Splasher is a fun, easy to use BlackBerry® app that allows you to convert an image to black and white and then add color back to a selected areas while offering a variety of creative controls.
Color splasher allows you to work on multiple photos, and then save the session when you exit the app if you need to answer a call or send SMS.
When working on a photo on a cell phone display, it can be difficult to see what you actually did, especially if there's bright sunlight or if you're on the move.
Color Splasher allows you to mask the painted area so you can clearly see what has been altered.
Color splasher enables enhanced artistic expression through its diverse choice of brush options.
The brush's size too can be altered as needed.
There's no need to wait until you get home to turn your photos into eye-popping masterpieces with Color Splasher.
Once you're done creating, you can easily share your images through Facebook, BBM contact ,E-mail etc.
TIP:
Use Volume Key to Increase or Decrease Selected Area
Features :
* Different brush size
* Zoom in & out
* Masked and colored view options
* 5 undo and redo moves each
* Save session ( 1 session only)
* Save image
* Share images

Try it, you won't regret it!