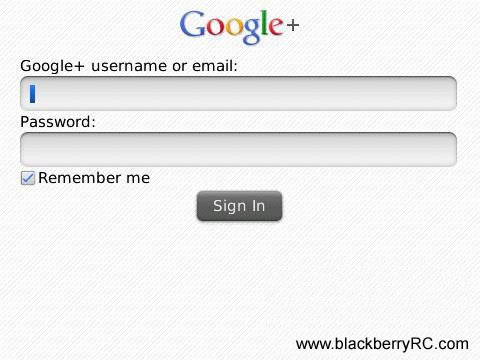 Tag:
Google Plus
Overview :
Google Plus is an SNS social networking sites, you can login through your Gmail account on the social networking site, you can and interested friends to share the fun things.

OS 5.0,6.0,7.0
size: 758 KB
model: Pearl 9100 3G, Pearl 9105 3G, Curve 8520, Curve 8530, Curve 8900, Curve 8910, Curve 8980, Bold 9000, Curve 9300 3G, Curve 9330 3G, Tour 9630, Bold 9650, Style 9670, Bold 9700, Bold 9780, Bold 9788, Curve 9350, Curve 9360, Curve 9370, Storm 9500/9530, Storm2 9550/9520, Torch 9850/9860, Torch 9800, Curve 9380, Bold 9790, Torch 2 9810, Bold 9900/9930, 9981

Description:
Google plus applications for blackberry are now available on blackberry app world. Google plus application is ready to used on your blackberry phone and you can download blackberry Google plus applications from blackberry app world.
Applications of Google plus are available free on blackberry app world. So you can integrate blackberry messenger with google plus social application to enjoy both google plus and blackberry messenger via same phone.
Download Blackberry Application for Google Plus
No problems have been noticed in initial trials of google plus applications for blackberry phone. You can download blackberry's google plus application to enjoy uninterrupted services of blackberry messenger and google plus blackberry application.
i hope you like it. download this apps for your blackberry .