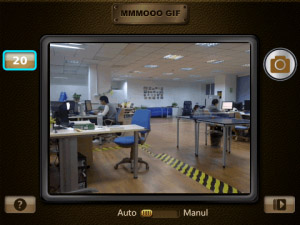 Tag:
MMMOOO
9900 apps
Gif
Overview :
MMMOOO Gif v1.0.2 - DIY funny animation pic
OS 5.0,6.0,7.0
Model: Pearl 9100 3G, Pearl 9105 3G, Curve 8520, Curve 8530, Curve 8900, Curve 8910, Curve 8980, Bold 9000, Curve 9300 3G, Curve 9330 3G, Tour 9630, Bold 9650, Style 9670, Bold 9700, Bold 9780, Bold 9788, Curve 9350, Curve 9360, Curve 9370, Storm 9500/9530, Storm2 9550/9520, Torch 9850/9860, Torch 9800, Torch 2 9810, Bold 9900/9930

Description:
★★The killer app is here!!! MMMOOO Gif enables you to DIY the most funny/amazing gif animation pic. Telekinesis, Fly, breakthrough a wall... are are piece of cake! With MMMOOO gif, you will be the most amazing magician!
***Support 9900/9930 now!!
Features:
1. Powerful amazing making machine, really funny;
2. 2 modes for picture shot, guarantee for more materials;
3. 10+ Effects;
4. 6 modes for DIY;
Promotion: Get full version for free! Please leave your encouraging review at App World and email us with subject: "MMMOOO Gif" and your PIN, we will help you to register. :)
Important Tips:
1. This is a version for free. When you export the .gif pictures, there will be a "MMMOOO" water mark. If you want to remove it, please purchase the full version or join our promotion.
2. This is a try water version, only support landscape devices, we will make it support all devices in future.
3. When export the final gif pic, that will be a little slow, please be patient. But considering the effects, that is absolutely worth to wait! :)
How to use:
1. Run MMMOOO Gif, and take a short video with it (e.g: Toss a coin);
2. Save and select a effect(this is optional);
3. Choose a DIY mode(e.g: B-A);
4. Press the tick to build and wait a few seconds;
5. Go your picture folder to see the gif, is it amazing, you could do telekinesis!! Share this via BBM, Facebook, Twitter... :)
Use your imagination, you could create more shocking gif!! More waiting for explore...
Guarantee satisfaction:
Welcome leaving your encouraging comment! If you find a bug or have a feedback, kindly write email to us, because we could not reply comments at App World Reviews.