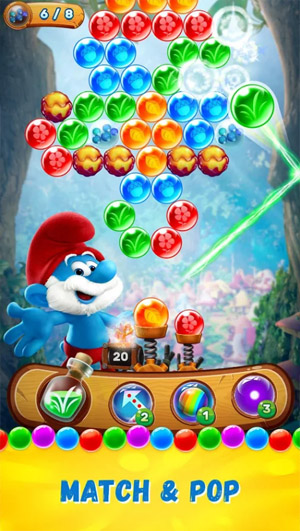 Tag:
Smurfs Bubble Story
Overview :
Smurfs Bubble Story for blackberry keyone, priv game
Ready, aim — pop! Embark on a colorful, bubble shooting adventure with all your favorite Smurfs in Smurfs Bubble Story! Travel with Papa Smurf, Smurfette, Clumsy and rest of the Smurfs family, on a quest across a forbidden forest, mysterious meadows and rushing rivers to pick up the other Smurfs kids who have gone lost. Join these little blue folks on an amazing magic adventure as they discover new Smurfs, explore the Smurf world, and go toe to (smaller and very blue) toe with Gargamel. Earn rewards, unleash special moves, and expand your Smurfs collection as you puzzle pop your way to victory! Line up the perfect shot and trigger massive chain reactions by using each Smurf's individual amazing abilities.
--FEATURES--
MATCH BUBBLES - Pop matching bubbles to collect tons of magical items.
BUILD YOUR SMURFS COLLECTION - Collect all unique Smurfs for special abilities to blitz through missions. 
FEATURING YOUR FAVORITE BLUE FRIENDS - Just like in the cartoons, meet Smurfette, Hefty, Brainy, Clumsy, and more.
HUNDREDS OF MISSIONS - Countless missions with addictive, yet challenging obstacles.
EXPLORE A BEAUTIFUL WORLD - Journey through the Smurfdom filled with stunning visual assets from the movie.
PLAY BOSS BATTLES - Face off against Gargamel and his minions in bubble blasting showdown to win special booster powers!
COMPLETE BONUS MISSIONS - Limited-time challenges to unlock exclusive rewards and new Smurfs!
GET SOCIAL – Connect to Facebook to play your friends and gift extra lives.
CLIMB THE LEADERBOARDS – Beat your friends at collecting the most Smurfs.
Supported Blackberry Cellphone Models Devices:
KEYone, Priv, DTEK60, DTEK50