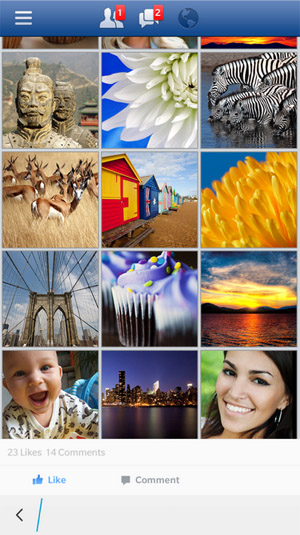 Tag:
Facebook
Passport apps
blackberry 10 apps
Overview :
Discover all the great ways Facebook works with your BlackBerry smartphone to help you stay connected and on top of your social life.
What's new with this update:
This is an important update which allows BlackBerry users to continue to access Facebook using a browser based interface. In addition to the updates listed below, there are some non-user facing changes that are mandated by Facebook. It is strongly recommended that users update to this version, as older versions of Facebook will stop working on March 31, 2016.
Version 10.8 of Facebook brings new updates listed below:
New updates:
- Introduction of a browser-based Facebook experience
- Ability to reply to comments and view replies to comments
- Removal of BlackBerry Hub entries related to Facebook
Facebook is only available for users age 13 and over. Terms of Service: http://m.facebook.com/terms.php.
Your use of this software is governed by the BlackBerry Solution License Agreement for your jurisdiction (""BBSLA""). If you do not already have a copy of the BBSLA, it can be found at www.blackberry.com/legal.
Supported Devices:
BlackBerry Classic
BlackBerry Leap
BlackBerry Passport
BlackBerry Passport Silver Edition
BlackBerry Q10
BlackBerry Q5
BlackBerry Z10
BlackBerry Z3
BlackBerry Z30
Porsche Design P9982
Porsche Design P9983