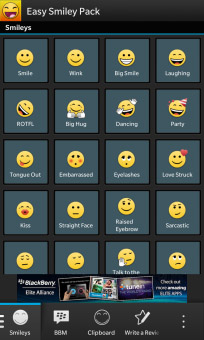 Tag:
s4bb
BB10
Overview :
S4BB Limited has released a new update for Easy Smiley Pack for BlackBerry® 10. In the new update reported bugs are fixed, also included is an explanation on how Easy Smiley Pack integrates into BBM™.
Easy Smiley Pack is the ultimate application for any BBM™ addict. With well over 680 smileys, flags and ASCII art images, you can customize your status updates and conversations. Even if your friends don't have Easy Smiley Pack installed, they'll still see the smileys you send them!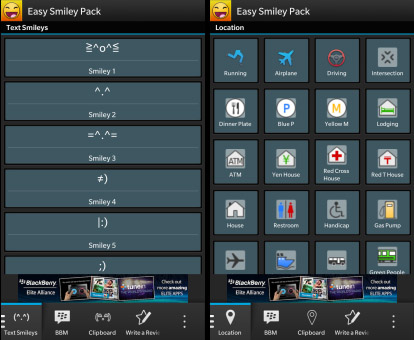 File Size: 11 MB
Required Device Software Operating System: 5.0.0 or higher
BB10 Smartphone: 10.0.0 or higher

Description:
The Easy Smiley Pack for BlackBerry® Messenger provides access to hidden smileys and emoticons right inside your BlackBerry® Messenger. Customize your BlackBerry® Messenger messages now and surprise your buddies! Also new is the BlackBerry® Messenger status customization, you can now add smileys and flags, and digits to your BBM status and profile name! This is a BBM Connected application.
Features:
- 680+ Smileys, flags, and ASCII art images in total now
- 250+ Smileys
- 210+ new country flags added
- 150+ ASCII art images added
- BlackBerry® Messenger status customization
- Digit to digit box translation
-Plugs into BlackBerry® Messenger through BBM Connected
- Complete instructions
- BlackBerry® Messenger can be launched out of application
- Easy usage
Note: These icons will even show up in your friend's BlackBerry® Messenger who does not have this app installed. Cool, right?
Minimum requirement: BlackBerry® Messenger 6.0.129 or above and OS 6.0 or above.
If you like this app, please write a review.