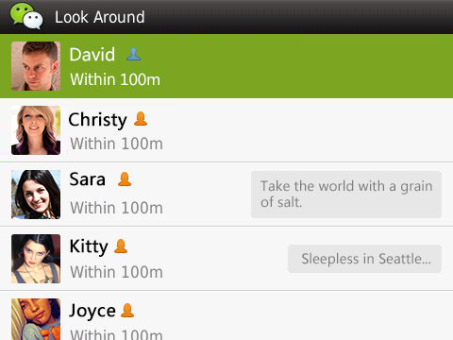 Tag:
WeChat
Overview :
The BlackBerry version 2.0 of the BlackBerry Micro letter release, version support system: OS5 / OS6 / OS7,the friend who needs might as well try to "shake".

File Size: 4 MB
Required Device Software Operating System: 5.0.0 - 7.0.0
Model: Blackberry 89XX Curve Series (480*360): 8900(Javelin), 8910(Atlas), 8930, 8950, 8980/Blackberry 90XX Bold (Onyx) Series (480*320) Devices Models: 9000, 9020(Onyx)/Blackberry 96XX Tour (Niagara) Series (480*360):9600, 9630, 9650(Tour2), 9700(Bold2), 9780, 9790, Dakota, Apollo /Blackberry 95XX Storm Series (360*480):9500, 9510, 9520, 9530, 9550(Storm2), 9570(Storm3)/Blackberry Torch Series: 9800(Torch), Torch2, 9810, 9860/Blackberry Pearl 3G Series (360*400) Devices Models: 9100, 9105, 9670(Style)/Blackberry 99XX (OS 7.0) Series (640*480) Devices Models: 9900, 9930, 9981

Description:
WeChat is the complete mobile communication and social networking app. Free, cross-platform, and full-featured, WeChat is the best way to keep in touch with everyone you care about.
Features:
- Free cross-platform individual and group messaging with text, voice notes, images, and more.
- Secure, locally stored message histories always accessible offline.
- NO ADS ANYWHERE!
- Incredibly easy friend adding by scanning QR codes, syncing with your phone contacts, sharing IDs, or using location-based services.
- Blazingly fast registration with your phone number.
- Support for 7 languages including: English, Thai, Indonesian, Portuguese, French, Simplified Chinese and Traditional Chinese.
- Available for OS5/OS6/OS7.