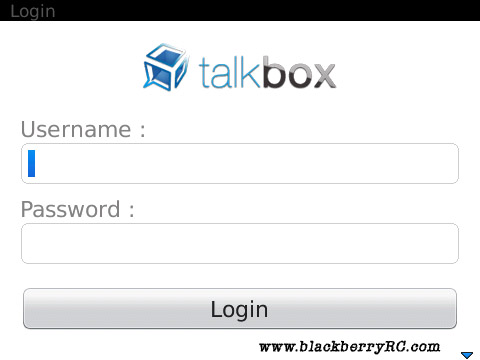 Tag:
9900 apps
TalkBox
Overview :
free TalkBox v1.02 for blackberry apps
os 5.0 - 7.0
Model:
Blackberry 89XX Curve Series (480*360): 8900(Javelin), 8910(Atlas), 8930, 8950, 8980/Blackberry 90XX Bold (Onyx) Series (480*320) Devices Models: 9000, 9020(Onyx)/Blackberry 96XX Tour (Niagara) Series (480*360):9600, 9630, 9650(Tour2), 9700(Bold2), 9780, Dakota, Apollo /Blackberry 95XX Storm Series (360*480):9500, 9510, 9520, 9530, 9550(Storm2), 9570(Storm3), 9800(Torch), Torch2/Blackberry Pearl 3G Series (360*400) Devices Models: 9100, 9105, 9670(Style)/Blackberry 99XX (OS 7.0) Series (640*480) Devices Models: 9900, 9930, 9981

Description:
Activate your voice
ACTIVATE YOUR VOICE!! EXPERIENCE A NEW WAY OF MESSAGING!!
Experience the fastest messaging on Android Phone & Tablet! TalkBox is sending messages with your voice and now with text input supports.
Join millions of TalkBoxers around the world and exchange voice messages free-of-charge with your friends!

★ Push-to-talk (PTT) INSTANT Walkie Talkie, voice messaging, text messaging, photo sharing and location sharing with your friends
★ Cross-Platform Messenger
★ FREE and works over WIFI, 3G and any other data network
★ GROUP CHATS
★ Simple and Easy to use
★ Post voice to Facebook, Twitter and make broadcast to all your friends
★ Address Book and Facebook contacts Integration
★ Conversation History

Any questions?

★ Like us on Facebook : http://facebook.com/talkbox.messenger

★ Follow us on Twitter : http://twitter.com/talkboxapp

★ Need Help? Visit http://talkboxapp.com or Email to support@talkboxapp.com



Try it, you won't regret it!