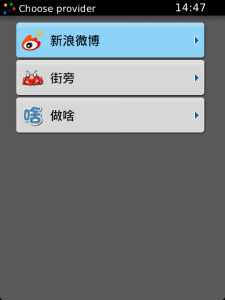 Tag:
MMMOOO
MoWriter
Overview :
free MoWriter v1.8 - Manage Multiple SNS With Only One App
size: 545 kb
Smartphone: 4.5.0 or higher
Model:
Blackberry 89XX Curve Series (480*360): 8900(Javelin), 8910(Atlas), 8930, 8950, 8980/Blackberry 90XX Bold (Onyx) Series (480*320) Devices Models: 9000, 9020(Onyx)/Blackberry 96XX Tour (Niagara) Series (480*360):9600, 9630, 9650(Tour2), 9700(Bold2), 9780, Dakota, Apollo /Blackberry 95XX Storm Series (360*480):9500, 9510, 9520, 9530, 9550(Storm2), 9570(Storm3), 9800(Torch), Torch2/Blackberry Pearl 3G Series (360*400) Devices Models: 9100, 9105, 9670(Style)/Blackberry 99XX (OS 7.0) Series (640*480) Devices Models: 9900, 9930, 9981

Description:
MoWriter from MMMOOO and MoWriter official, now comes with version 1.6, which is more powerful than the official SNS client!
Supports all OS7 devices perfectly, supports collage local pictures for publishing, and supports Auto distinguish network connection to help users save data plan...And more waiting for your exploring!
MoWriter is a client to help users manage their multiple SNS accounts with only one app, which will make the management and synchronize more convenient in different SNS channel!
Features:
1. Perfectly supports OS7 devices;
2. Collage function, make your SNS more vivid!
3. Auto distinguish network connection to help users save data plan;
4. Supports publish animated Gif pictures;
5. Optimization for saving data plan;
6. Supports Weibo, Jiepang, Zuosha
7. The perfect assistant to manage your SNS!