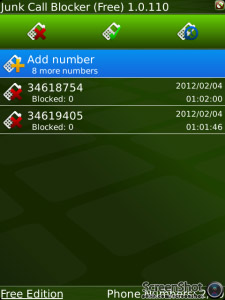 Tag:
Call
Blocker
Junk
Overview :
Free Junk Call Blocker v1.0.114 for os6.0,7.0 apps
size: 2.02 MB
model: Pearl 9100 3G, Pearl 9105 3G, Curve 9300 3G, Curve 9330 3G, Bold 9650, Style 9670, Bold 9700, Bold 9780, Bold 9788, Curve 9350, Curve 9360, Curve 9370, Torch 9850/9860, Torch 9800, Curve 9380, Bold 9790, Torch 2 9810, Bold 9900/9930, 9981
Description:
★★★ Brand New Release ★★★ Free ★★★
Junk Call Blocker is a smart application that adapts from your call list to allow you to select specific phone numbers to block. Save yourself the headache of having to deal with junk calls by blocking them with this app!
Feature Overview:
★ Two Modes: autoblock junk call (default setting), show warning only on an incoming junk call
★ Junk Call Blacklist (add numbers to this list and they will be blocked)
★ Whitelist (overrules any number in the blacklist)
★ Block History
★ Block Numbers Via: call log, last short call (less than 10 seconds), manual number input
★ Block Feedback: get notifications once a phone call had been blocked
★ BBM™ integration: share junk call numbers and Junk Call Blocker activity via BBM™
This is a BBM™ connected app.
If you like Junk Call Blocker please write a review. Thanks.
With this free version, you can keep up to 10 numbers on your customized block call list. An option to increase this limit is available inside Junk Call Blocker.
This product comes with a 30 day value back guarantee. More info: http://s4bb.com/returnpolicy
If you like the bb app, Please share to your friends!