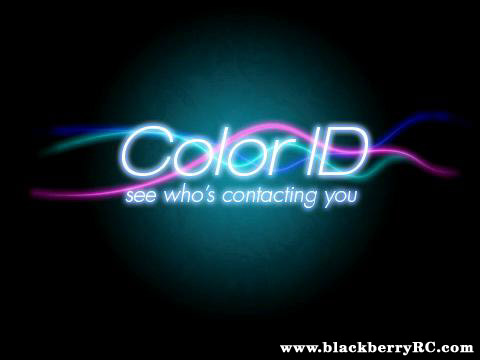 Tag:
99xx
97xx
85xx
98xx
96xx
Color ID
91xx
Overview :
free Color ID™ v2.1.2 for blackberry os5.0+ apps
OS 5.0, 6.0, 7.0
model : Pearl 9100 3G, Pearl 9105 3G, Curve 8520, Curve 8530, Curve 8900, Curve 8910, Curve 8980, Bold 9000, Curve 9300 3G, Curve 9330 3G, Tour 9630, Bold 9650, Style 9670, Bold 9700, Bold 9780, Bold 9788, Curve 9350, Curve 9360, Curve 9370, Storm 9500/9530, Storm2 9550/9520, Torch 9850/9860, Torch 9800, Torch 2 9810, Bold 9900/9930

Description:
★ Now with support for BBM™ messages!
You wanted it, you asked for it, and now it's finally here. Choose from any of our awesome custom presets or a color combo of your choosing for all of your incoming BBM™ messages.
★ Color ID™ is the ORIGINAL & BEST LED notifier app, period! Forget copy-cat apps that drain memory and all look the same. You need and deserve the most downloaded and TRUSTED LED color customizer app for your BlackBerry®.
★ Syncing with your BlackBerry® Address Book is easy! Just start typing a name from your Address Book and it will autofill the rest for you!
★ With over 100 possible color combinations, it's totally up to you - Maybe Yellow and Orange for your company colors, Disco for your boyfriend/girlfriend, or maybe Jersey Shore for your party people. You'll always know at a glance who's contacting you with Color ID.
★ Professional UI, functionality and previews by BlackBerry® professionals - not the corny cheap look of the other imitator apps that all look like they were made by the same company (and probably were).
★ This FREE version allows 2 custom settings for specific combinations...you can assign as many contacts under one color combo as you want! For example, put all your best friends under "Disco" and let 'er rip!
★ Please UPGRADE TO FULL VERSION to customize an unlimited number of configurations! http://appworld.blackberry.com/webstore/content/2457
★ Updates are FREE and encouraged! Please contact us if you have any questions or issues: support@motekmobile.com
★ Additional help & info to common questions can be found here: http://support.motekmobile.com/wiki/index.php/Color_ID

LED : Color : Colors : Light : Lights : Blink : Contact : Customizer : BBM : BBMs : Email : Emails : Call : Calls : Message : Messages : LEDs :