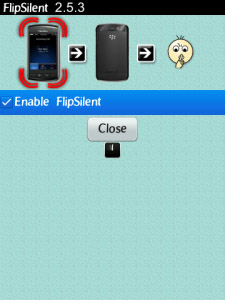 Tag:
Silent
Flip
Overview :
Flip Silent v2.5.4 FOR blackberry apps
Required Device Software
4.7.0 or higher
Model:
Blackberry 95XX Storm Series (360*480):9500, 9510, 9520, 9530, 9550(Storm2), 9570(Storm3), 9800(Torch), 9810/9850/9860(Torch2)
Description
Just flip the phone when a call is incoming to silence it.
Features
* Flip the phone to silent.
* More incoming calls will be silent too.
* Flip the phone back and the normal profile reactivated.
* Activate or deactivate FlipSilent whenever you want.
* Works flawlessly after device reboot/reset.
* Silence the phone with elegance (i.e. in a meeting).
* Exclusively for BlackBerry® Storm, Storm II, Torch 9800, Torch II 9810, 9850, 9860 running OS 5.0 or higher.
How it works
Once activated FlipSilent™ is waiting for incoming phone calls. Once someone calls you FlipSilent is waiting for your action. Right after the phone is flipped it is set to silent. It will stay silent until you flip it back!
Use FlipSilent™ in Meetings!
In a meeting everyone puts its phone on the table. Every other minute someone's phone rings and he or she needs to set it to silent – you can see this when they are fiddling around to find the actual key or button. With FlipSilent a cool appearance can be made by just flipping the phone to silent. You won't get this on an iPhone!
Watch a FlipSilent video on YouTube: http://www.youtube.com/watch?v=lMYCKpzvwfs
This product comes with a 30 day value back guarantee. More info: http://s4bb.com/returnpolicy.