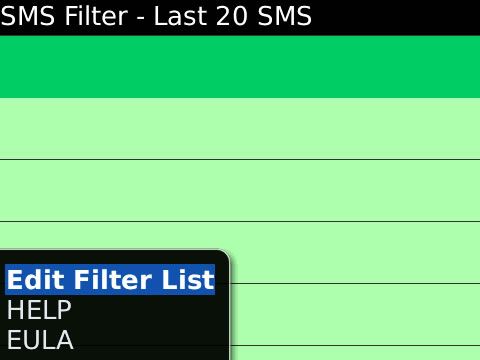 Tag:
SMSFilter
Overview :
Model:
Blackberry 72XX Series (240*160) Devices Models: 7200, 7210, 7230, 7250, 7270, 7280, 7290, 7510, 7520, 6510/Blackberry 71XX Series (240*260) Devices Models: 7100, 7110t, 7105t, 7100r, 7100v, 7100g, 7100x, 7100i, 7130e, 7130c, 7130g, 7130v/Blackberry 81XX Series (240*260) Pearl Devices Models: 8100, 8110, 8120, 8130/Blackberry 82XX Series (240x320) Pearl Flip Devices Models: 8200, 8220, 8230/Blackberry 8350i (320*240) Series: 8350i, 8500, 8520/ Blackberry 83XX Series (320*240) Curve Devices Models: 8300, 8310, 8320, 8330/Blackberry 87XX Series (320*240) Devices Models: 8700c, 8700r, 8700f, 8700g, 8703e, 8707, 8707g, 8707v .etc /Blackberry 88XX Series (320*240) Devices Models: 8800, 8820, 8830 .etc /Blackberry 89XX Curve Series (480*360): 8900(Javelin), 8910(Atlas)/Blackberry 90XX Bold (Onyx) Series (480*320) Devices Models: 9000, 9020(Onyx)/Blackberry 95XX Storm Series (360*480): 9500, 9510, 9520, 9530, 9550(Storm2)/Blackberry 96XX Tour (Niagara) Series (480*360): 9600, 9630 Niagara, 9650, 9700
Description:
The WORLD'S FIRST BlackBerry SMS Filter Application
There are many call, email filtering applications out there. This is the ONLY application that filters out SMS from a BLACKLIST.
NO MORE MONTHLY SUBSCRIPTION
If you are paying monthly subscription to the Telecommunications Provider, this is THE APPLICATION for you. GET IT NOW.
NO MORE SPAM SMS
If you are receiving SPAM SMS, this application can filter out the SPAM SMS.
FILTERING UNWANTED SMS.
SMS from blacklisted contacts will not appear in normal SMS viewer.
Filtered SMS are accessible from the application. Filtered SMS will auto purge when folder is full.