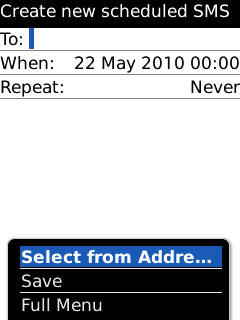 Tag:
sms
Scheduler
Overview :
Model:
Blackberry 72XX Series (240*160) Devices Models: 7200, 7210, 7230, 7250, 7270, 7280, 7290, 7510, 7520, 6510/Blackberry 71XX Series (240*260) Devices Models: 7100, 7110t, 7105t, 7100r, 7100v, 7100g, 7100x, 7100i, 7130e, 7130c, 7130g, 7130v/Blackberry 81XX Series (240*260) Pearl Devices Models: 8100, 8110, 8120, 8130/Blackberry 82XX Series (240x320) Pearl Flip Devices Models: 8200, 8220, 8230/Blackberry 8350i (320*240) Related Devices Model: 8500, 8520, 8530/Blackberry 83XX Series (320*240) Curve Devices Models: 8300, 8310, 8320, 8330 / Blackberry 87XX Series (320*240) Devices Models: 8700c, 8700r, 8700f, 8700g, 8703e, 8707, 8707g, 8707v .etc /Blackberry 88XX Series (320*240) Devices Models: 8800, 8820, 8830 .etc /Blackberry 89XX Curve Series (480*360): 8900(Javelin), 8910(Atlas)/Blackberry 90XX Bold (Onyx) Series (480*320) Devices Models: 9000, 9020(Onyx)/Blackberry 96XX Tour (Niagara) Series (480*360):9600, 9630, 9650(Tour2), 9700(Bold2) /Blackberry 95XX Storm Series (360*480):9500, 9510, 9520, 9530, 9550(Storm2)/Blackberry Pearl 3G Series (360*400) Devices Models: 9100, 9105
Description:
Never forget to send an important SMS again! Messages with wishes, reminders for colleagues and friends, you name it...
With SmsScheduler you can prepare your SMS messages in advance, and schedule them for automatic delivery at any date & time in the future. Various types of recurrence are also supported, so that a Happy Birthday message is sent all years on Feb 12, for example.
Main Features
* Allows to schedule unlimited SMS messages
* Allows to specify multiple recipient numbers for each scheduled SMS
* Recipient numbers are easily chosen from the device's Address Book
* Supports daily, weekly, monthy and yearly recurrence
* All delivered messages are logged and listed through a Log screen
* Scheduler can be temporarily disabled
* Autostarts when the device is turned on, and then runs in background
* Very clean and simple user interface
* Detailed on-screen instructions
* Works on all devices with OS 4.2 and newer
Note: Storm owners may benefit from disabling compatibility mode.