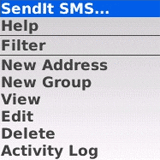 Tag:
SendIt
Overview :
free SendIt v1.0.2 for blackberry apps download

Are you always typing the same sms message and wish you can just select a pre-defined message and send it? Now you can with SendIt. A simple and intuitive way sending sms from the Address Book, Call Log and Messages application.
Sending a sms is way easier with SendIt. Highlight the contact in the Addressbook and then select the SendIt SMS from the menu and a popup screen will be displayed will all your pre-defined messages to select from.
You can use SendIt in the AddressBook, Messages and CallLog applications. You can even select a email address from the Contacts or Messages application and send a sms.
Features:
* *No more typing SMS. Just select a pre-defined SMS
* *Integrate with AddressBook, Messages and CallLog applications
* *Send SMS to email address
* *Automatically select the mobile number from the Contacts to send
* *Supports upto 128 pre-defined messages
* *Works on BlackBerry OS 4.2 and higher
* *Intuitive and very easy to use
* *Let you be more productive
Minimum Requirements:
* BlackBerry OS 4.2 and higher
* 32K of main memory
Display Dimensions
240x240, 240x260, 240x320, 320x240, 360x480, 480x320, 480x360
Operating System
4.2, 4.3, 4.5, 4.6, 4.7 Non-Touch, 4.7 Touch Screen, 5.0 Non-Touch, 5.0 Touch Screen
NOTE: There is problem on the Tour with the CallLog application. You can not send from this app. This is a bug in the Tour OS.
Permissions must be set to all ALLOW in the Options->Advanced Options->Applications app for SendIt.
Storm Users: You need to disable compatibility mode in the Options app for SendIt.
For the serial, use the Key Generators you can get in my other post entitled "APP KEY GENS (Must Have!)". Enjoy!
Model:
Blackberry 72XX Series (240*160) Devices Models: 7200, 7210, 7230, 7250, 7270, 7280, 7290, 7510, 7520, 6510/Blackberry 71XX Series (240*260) Devices Models: 7100, 7110t, 7105t, 7100r, 7100v, 7100g, 7100x, 7100i, 7130e, 7130c, 7130g, 7130v/Blackberry 81XX Series (240*260) Pearl Devices Models: 8100, 8110, 8120, 8130/Blackberry 82XX Series (240x320) Pearl Flip Devices Models: 8200, 8220, 8230/Blackberry 8350i (320*240) Related Devices Model: 8500, 8520, 8530, 9300(Kepler)/Blackberry 83XX Series (320*240) Curve Devices Models: 8300, 8310, 8320, 8330 / Blackberry 87XX Series (320*240) Devices Models: 8700c, 8700r, 8700f, 8700g, 8703e, 8707, 8707g, 8707v .etc /Blackberry 88XX Series (320*240) Devices Models: 8800, 8820, 8830 .etc /Blackberry 89XX Curve Series (480*360): 8900(Javelin), 8910(Atlas), 8950/Blackberry 90XX Bold (Onyx) Series (480*320) Devices Models: 9000, 9020(Onyx)/Blackberry 96XX Tour (Niagara) Series (480*360):9600, 9630, 9650(Tour2), 9700(Bold2) /Blackberry 95XX Storm Series (360*480):9500, 9510, 9520, 9530, 9550(Storm2)/Blackberry Pearl 3G Series (360*400) Devices Models: 9100, 9105