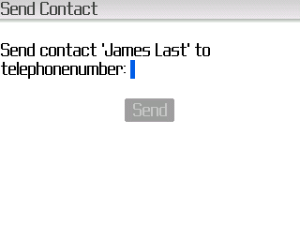 Tag:
m2bCard
Overview :
This small tool enables you to send and receive vCards (electronic business card) via SMS on your BlackBerry® Smartphone.
m2bCard from WebDynamite enables you to send any contact information from your adressbook easily via SMS.
But not only sending vCards, also receiving them via SMS and importing them into the adressbook works easily. When you receive a SMS with vCard information, a dialog opens and you can import the vCard into your adressbook. You can also import vCards later from your SMS inbox.
Release Notes:
==============
v1.02:
Bugfix 1737:
NPE on older device (e.g. 7130g)
Bugfix 1736:
Serialized contact-photo data is now filtered from vCard before sending (skipping base64encoded content)
Displaying now the number of SMS in the dialog, if multiple SMS will be send for one vCard.
v1.03:
Enhancements for content encoding
v1.04:
Updated License Handling
Updated Network check
discovered firmware bug with 4.6.1.101 on 8900 on SMS send. Added warning dialog.
v1.05:
Improved interoperability with Nokia phones
Added a new option to send a contact as short sms (Name and first phonenumber only)
User can now deactivate "multiple SMS warning".
Added entry for m2bCard into BlackBerry Options
Now filtering Comments when sending a vcard due to user feedback for sensible data.
Bugfix for multiple telephone numbers on import
v1.06:
Bugifx for long text in fields, e.g. Job title too long.

v1.07:
Bugfix/Workaround for BB api not able to import vcards without a name or ORG-information only.
Model:
Blackberry 82XX Series (240x320) Pearl Flip Devices Models: 8200, 8220, 8230/Blackberry 8350i (320*240) Related Devices Model: 8500, 8520, 8530, 9300(Kepler)/Blackberry 83XX Series (320*240) Curve Devices Models: 8300, 8310, 8320, 8330 / Blackberry 87XX Series (320*240) Devices Models: 8700c, 8700r, 8700f, 8700g, 8703e, 8707, 8707g, 8707v .etc /Blackberry 88XX Series (320*240) Devices Models: 8800, 8820, 8830 .etc /Blackberry 89XX Curve Series (480*360): 8900(Javelin), 8910(Atlas), 8950/Blackberry 90XX Bold (Onyx) Series (480*320) Devices Models: 9000, 9020(Onyx)/Blackberry 96XX Tour (Niagara) Series (480*360):9600, 9630, 9650(Tour2), 9700(Bold2) /Blackberry 95XX Storm Series (360*480):9500, 9510, 9520, 9530, 9550(Storm2)/Blackberry Pearl 3G Series (360*400) Devices Models: 9100, 9105