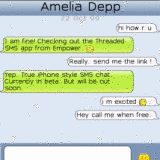 Tag:
sms
Empower
Threaded
Overview :
free Empower Threaded SMS v1.6 apps for blackberry download
True Threaded SMS on BlackBerry. Now instead of just a simple list, your SMS are sorted into conversation and grouped by Contacts. Just like the iPhone SMS, you can view each conversation in IM style and reply at the bottom like in SMS chat.
An iPhone style Bubble Theme is included by default.
True Threaded SMS application for BlackBerry
Conversation view grouped by Contacts
IM Style SMS chat client
Express better with real graphic Smileys!
Turn URLs into colorful web-links.
Different options for font, style, colors etc.
Numerous customization option to configure it exactly the way you want.
Supported on all OS 4.2.1 and above!
Minimum requirements:
Operating System
4.2, 4.3, 4.5, 4.6, 4.7 Non-Touch, 4.7 Touch Screen, 5.0 Non-Touch, 5.0 Touch Screen, 6.0 Non-Touch, 6.0 Touch Screen
Model:
Blackberry 81XX Series (240*260) Pearl Devices Models: 8100, 8110, 8120, 8130/Blackberry 82XX Series (240x320) Pearl Flip Devices Models: 8200, 8220, 8230/Blackberry 8350i (320*240) Series: 8350i, 8500, 8520, 9300/ Blackberry 83XX Series (320*240) Curve Devices Models: 8300, 8310, 8320, 8330/Blackberry 87XX Series (320*240) Devices Models: 8700c, 8700r, 8700f, 8700g, 8703e, 8707, 8707g, 8707v .etc /Blackberry 88XX Series (320*240) Devices Models: 8800, 8820, 8830 .etc /Blackberry 89XX Curve Series (480*360): 8900(Javelin), 8910(Atlas), 8950/Blackberry 90XX Bold (Onyx) Series (480*320) Devices Models: 9000, 9020(Onyx)/Blackberry 95XX Storm Series (360*480): 9500, 9510, 9520, 9530, 9550(Storm2), 9800/Blackberry 96XX Tour (Niagara) Series (480*360): 9600, 9630 Niagara, 9650, 9700, 9780/Blackberry Pearl 3G Series (360*400) Devices Models: 9100, 9105, 9670(Style)