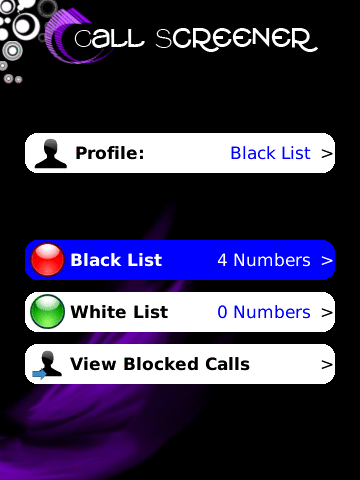 Tag:
Advanced
Call
Blocker
Overview :
free blackberry apps : Advanced Call Blocker v1.6
Move over to the industry's most advanced and feature rich call screener. Advanced Call Blocker provides call blocking on a set of profiles like BlackList, WhiteList, All Except BlackList, Only Address Book, No Calls etc.
The latest version introduces a concept of Timed Profiles where you can automatically switch between different profiles!
With a clean and intuitive UI, Advanced Call Blocker is drop-dead simple to use with no complex operations required. Install today and take full control over your time.
Features:
Supports multiple profiles like BlackList, WhiteList, Only Address Book, All Except BlackList etc.
Full integration with native Call Log and native Address Book app. Easily add numbers to WhiteList or BlackList from anywhere!
Timed profiles to Automatically turn on and off at specified times!
Clean and Intuitive UI

Minimum Requirements:
•OS 4.2.1
Display Dimensions
240x160, 240x240, 240x260, 240x320, 320x240, 360x400, 360x480, 480x320, 480x360
Operating System
4.2, 4.3, 4.5, 4.6, 4.7 Non-Touch, 4.7 Touch Screen, 5.0 Non-Touch, 5.0 Touch Screen, 6.0 Non-Touch, 6.0 Touch Screen
Model:
Blackberry 81XX Series (240*260) Pearl Devices Models: 8100, 8110, 8120, 8130/Blackberry 82XX Series (240*320) Pearl Flip Devices Models: 8200, 8220, 8230/Blackberry 8350i (320*240) Related Devices Model: 8500, 8520, 8530, 9300(Kepler), 9330/Blackberry 83XX Series (320*240) Curve Devices Models: 8300, 8310, 8320, 8330 / Blackberry 87XX Series (320*240) Devices Models: 8700c, 8700r, 8700f, 8700g, 8703e, 8707, 8707g, 8707v .etc /Blackberry 88XX Series (320*240) Devices Models: 8800, 8820, 8830 .etc /Blackberry 89XX Curve Series (480*360): 8900(Javelin), 8910(Atlas), 8930, 8950, 8980/Blackberry 90XX Bold (Onyx) Series (480*320) Devices Models: 9000, 9020(Onyx)/Blackberry 96XX Tour (Niagara) Series (480*360):9600, 9630, 9650(Tour2), 9700(Bold2), 9780 /Blackberry 95XX Storm Series (360*480):9500, 9510, 9520, 9530, 9550(Storm2), 9570(Storm3), 9800(Torch)/Blackberry Pearl 3G Series (360*400) Devices Models: 9100, 9105, 9670(Style)